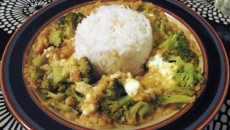 I`m a student. I`m on a budget. But…. I need to eat. I want to be healthy, and I want the environment to be healthy too. Seems like an insurmountable challenge at times to know what to eat. And then to have the energy to cook it! But I`ve come to see the challenge as a hobby and therefore I can enjoy the everyday task of making a meal. Exploring small shops and experimenting with new recipes don`t have to break the bank. By researching and talking with friends, I`m finding new ways to minimize my negative impacts on the environment. And I`m always learning something new about how to improve the process. Best of all, cooking and eating are part of the social environment that makes this student life more fun!
I wanted to start this blog by making something with the ingredients that I already had at home, because using what you already have cuts down on waste, and it saves money. I can`t tell you how many times I`ve gone to the store for only 1 ingredient to be able to make a recipe, and come home with a bag full of groceries that I didn`t need! When I use what I already have in the refrigerator, not only am I saving money, but I make sure I don`t let vegetables go bad. So I start my blog by using the broccoli I already had. Always keeping lentils and coconut milk in stock at home, an affordable and simple meal is only a few steps away.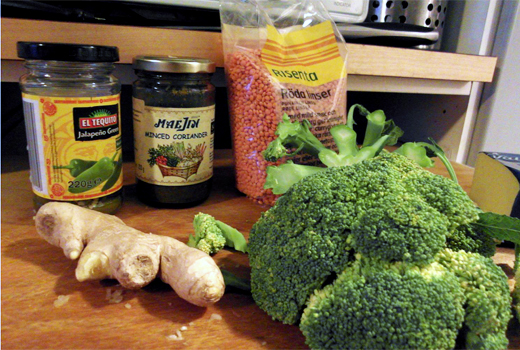 As you may notice from the photo, the broccoli is starting to lose its bright green color- a clear indication that I must €˜use it or lose it`.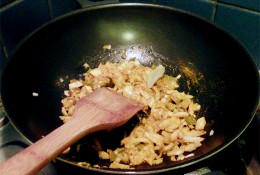 This dish started with a bit of butter, onion, a few teaspoons of fresh ginger and chopped jalapeños and a few spices: Turmeric, chilli, paprika, cumin, cayenne or whatever you have according to your preference for spice. A bay leaf compliments the flavours nicely. Once those have softened on medium-high heat, I added the lentils and water and turn the heat to medium. Though I separately boiled the broccoli this time, next time I will add the broccoli to the lentils at this point to save time and energy. After about 10 minutes of simmering with the lid on, I added the coconut milk and put the lid back on.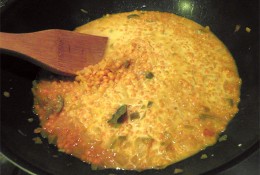 The basmati rice was made to instruction, or about 1 part rice to 2 parts boiling salted water. When ready, I spooned some rice into a small dish and turned it upside down on the plate. When I removed the dish, the rice was in this very presentable shape. Though, this is a trick used to impress company. On a normal night I`d make this dish by scooping a big heap of the rice into the centre, and save myself the extra dishes.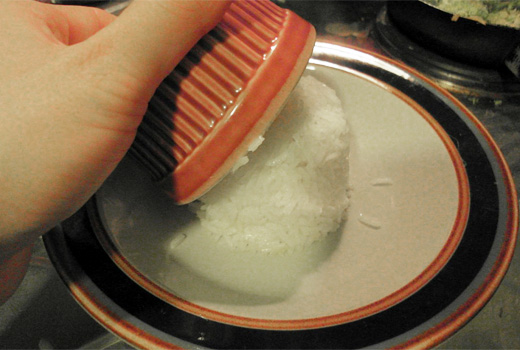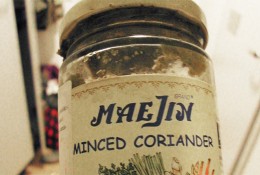 The finishing touches to the coconut lentils are a bit of coriander and plain yogurt, added right before serving. Since fresh coriander is often expensive, and doesn`t stay long in the refrigerator, I buy this minced coriander from the Asian stores in Hakaniemi. One jar costs about the same as a fresh bunch from the store, and lasts me several months. I prefer this than wasting half of a fresh bunch. I use a spoonful in most Thai, Indian, and Mexican dishes to give an authentic taste.
Lastly a tip I might share about not wasting parts of your vegetables that are still quite good for eating! The stem of the broccoli may not be as soft and pretty as the nice florets at the top used in this recipe, but they are perfectly edible. Chop them into bite-sized pieces and add them to soups or salads.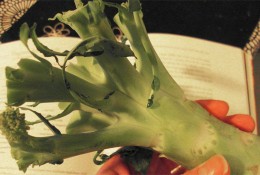 About the recipe: The recipe was adapted from Deborah Madison`s €˜Vegetarian Suppers`, a book I love because it categorizes recipes by season, making sure to use only vegetables that are in season. I simplified the process to save time and energy on my electric stove. The recipe serves 4, which may be more than you can eat tonight, but a €˜cook once, eat twice` motto will also save time and money. The recipe can easily be halved if you`re cooking for one, but if doing so I would still use the whole head of broccoli because I felt the recipe could have used more.
Basmati rice (or Jasmine or any other long grain rice will do)
2 tablespoons (rkl) butter
1 onion, chopped
2 tablespoons (rkl) fresh ginger, chopped
jalapeño peppers, chopped (depending on how spicy you like it- I used a handful from a jar)
5dl organic dried red lentils + 8 dl water
spices: turmeric, cayenne pepper, a bay leaf, cilantro, mustard, chilli and paprika are all good choices
3 dl coconut milk
1 head of broccoli, using the florets at the top only
plain yogurt
salt and pepper
Start the rice, since this will take about 20 minutes. That way, everything will be ready at about the same time.