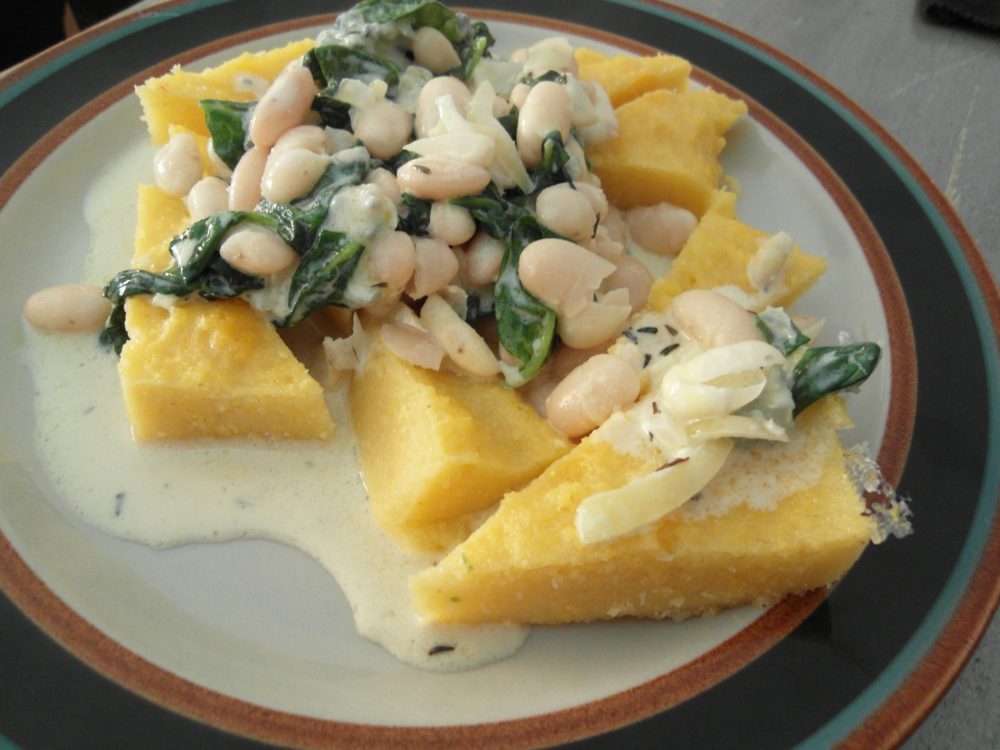 Polenta with Spinach and White Beans
Polenta is a word that originates from Italy for this ground cornmeal staple. Polenta can be made from yellow or white corn and is a great substitute for pasta because it cooks fast and goes well with a variety of flavor combinations. Being that polenta is generally flavourless, it is typically well complimented by rich or creamy sauces, making polenta the perfect comfort food. Plus, polenta is a gluten free food, which is good to know if you`re hosting guests with special dietary needs.


I discovered polenta a while back on the menu of a nice Italian restaurant in Annapolis, Luna Blu. Without any idea of what it might be I looked it up and promptly bought a package of it, a little dubious that I would have the skills needed to make this €˜gourmet` food. But to my surprise, cooking polenta was fast, easy, and really tasty.
Polenta can be bought in a few different varieties, including the slow cooked version that requires a double boiler. However, typically the most available version (in Helsinki anyway) is the Divella brand, instant version. This will work perfectly in this dish and many others. Polenta can be served in a few ways, either soft, like a thick porridge, served immediately after cooking, or in cubes or other shapes once it`s cooled. One of my favorite ways to top polenta is by using two of my favorite foods: blue cheese and spinach. Spinach contains a lot of iron, which is great if you`re a vegetarian in need of a little more iron from sources other than red meat. If you`re like me, and don`t eat much red meat, then you  may have experienced on occasion a strong spinach craving. This recipe will give you your fix.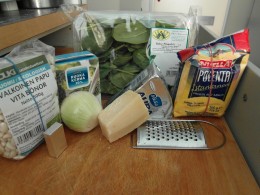 Start by making the polenta. This is a difficult process to photograph, since it goes quite quickly and demands constant stirring. For about 4 portions, start by boiling a litre of water in a large pot. Add salt or broth, like I add vegetable or chicken broth cube (liemikuutioita). While waiting for the water to come to a boil, grate about 2dl (or more as desired) of parmesan cheese and have it ready by the stove. Once the water is boiling stire in about 250grams of polenta, slowly. Words of wisdom: instant polenta thickens very fast. Pour the polenta slowly whilst stirring, taking time to stire well. Otherwise polenta can stick to each other and become very clumpy, which is not what you want. Do not stop stirring throughout the process. Be patient, it will only take a few minutes. Once the polenta is completely stirred in, stir in the grated parmesan.
To make the cubes of polenta, such as pictured above, spoon the soft polenta into a foil-lined baking pan or other similar flat pan and smooth the polenta out so that it is about 2cm in height. Allow to cool for about 1 hour. Then it will be ready to cut into shapes. To heat it up again before serving, simply heat a little olive oil in a pan and add the polenta shapes, flip and cook until heated.
For the sauce: Start by de-stemming and rinsing your spinach. (This isn`t necessary if using frozen spinach, but I prefer fresh). Heat some olive oil in a pan. A few table spoons should be enough. Chop and onion and add to the hot oil and stir until the onion is lightly translucent (läpikuultava). Then add the spinach. Go for it, add the whole package. The spinach will wilt down to a much smaller volume once cooked because of how much water the leaves contain.
Now you can add the cream (1 small box), white beans (about 150g dried or 1can), and blue cheese cheese (nice sized hunk, like pictured below, or to taste). If you are using white beans out of a can, make sure they are well drained and rinsed before adding to the sauce, as canned beans are often soaked in very salty water. I prefer to use dried beans, as they are cheaper, take up less space in my cabinets and are generally more ecofriendly. Note: If using dried beans, you need to do this the day before and let soak over night. Then simmer on a low boil for a couple of hours.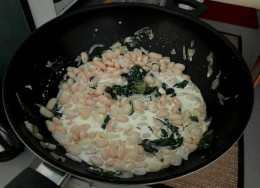 Now that you`ve made your sauce, you`re ready to put the dish together.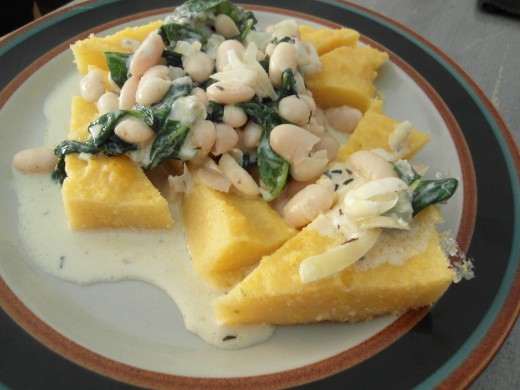 About the recipe: Adapted from Vegetarian Suppers by Deborah Madison. She has a lot of unique vegetarian ideas for hosting casual dinner get-togethers.
Prep Time: If using fresh spinach, 45 minutes. If using frozen spinach, 30 minutes.
Overall time: If using dried beans, you`ll need overnight plus boiling time. If using canned beans: 45 minutes.