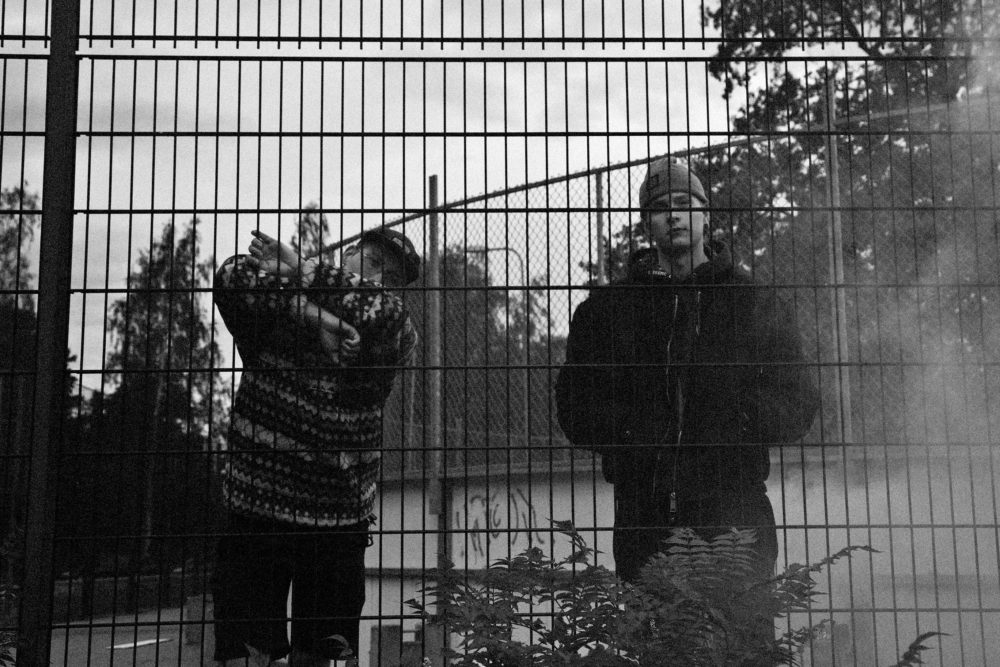 Tuisku Hakoniemi, 21, tugs his beanie down to cover his blue hair. He seems unable to hide his confusion.
"When we first started out we thought our gigs would be full of guys in hoodies. Turned out the front rows were full of girls," he says.
Welcome to Töölö, a neighbourhood in Helsinki known for being home to functionalist architecture and its sleepy residential atmosphere. Guests in Hakoniemi's shared apartment are greeted with a knee-high mountain of Karhu and New Balance sneakers. The hat rack is brimming with baseball caps, and a black pilot jacket hangs below.
This is not just any flat share in Töölö. This is the home of Hakoniemi and Fedja Kamari, 22. The duo goes by the name of Töölön Ketterä (Ketterä meaning agile). In just six months Kamari and Hakoniemi have managed to launch themselves into being Finland's most hyped about artists.
Hakoniemi raps under the pseudonym Matti8, and Kamari produces and djs at gigs under the name Handshaking. Despite both having extensive backgrounds in making music on their own, it was only after the breakthrough of Töölön Ketterä that Hakoniemi and Kamari became household names.
Last spring the pair signed a record deal with rap label PME Records; Töölön Ketterä hasn't been off the radio waves since. This summer they toured in some of the biggest festivals in Finland from Flow Festival, to Ruisrock and Blockfest. At its peak, Töölön Ketterä has had five to six gigs a week.
"In the beginning we thought it would be difficult to get attention. It's not enough to just make a song and upload it online," Hakoniemi says.
Hakoniemi had nothing to worry about. If it's attention they wanted, it was exactly what they got. Last March, Hakoniemi and Kamari had just published their first song together, Ludoo, when the radio channel YleX showered them with praise and called them a unique and interesting ensemble. The channel said their material was "crafty, nifty and catchy rap from a neighbourhood in Helsinki where one would least expect it."
Töölö plays a vital role in the messy, VHS-aesthetic inspired music video for Ludoo. The song and video were, in fact, a manifest of sorts.
"Before I bashed MCs, now it's just pure murder," Hakoniemi raps on top of Kamari's beats.
The attention and hype around Töölön Ketterä is due to the duo's chosen genre: grime. Unlike the rest of the Finnish rap scene, Hakoniemi's and Kamari's musical idols and influences hail from the United Kingdom.
Grime was born in London in the beginning of the century. While hip hop recycles funk, soul and other rhythm music from dusty records, grime utilizes the minimally thumping beats of electronic dance music and basslines that make your chest pump.
In Britain the nascent musical genre grew into a national phenomenon thanks to pirate radio stations and illegally organised gigs. In the beginning of the 2000's, grime offered kids from deprived neighbourhoods a way to express themselves and escape a reality where everyone you knew entered adulthood through social services instead of university.
If you weren't mixing beats and rhymes, you could organise gigs, hand out flyers or simply get high with suspiciously cheap amphetamine. Grime also handed the British black community a much needed megaphone.
The noughties saw artists like Dizzee Rascal and Wiley introducing grime to the mainstream on MTV and music charts. Despite their individual successes, the genre quickly disappeared to where it had started from. Grime stagnated into the soundtrack of loitering around suburban malls and dingy house parties, and never developed into a presentable and sanitary pop phenomenon.
Hakoniemi has noticed that the history of his chosen genre established certain prejudice against the music of Töölön Ketterä.
"Grime has its own dark sound world. Our music doesn't always have it, and we're easily criticised for not being authentic enough. But we're not really hip hop or pop either," he says.
"We've taken all artistic freedoms in our music; we don't spend time thinking about whether this is pop enough for the radio, or whether our songs are too much or too little of something."


In Finland, grime entered the club scene a decade ago. Hakoniemi and Kamari have been called trailblazers, because Finnish language grime has is a novelty in commercial radio channels. But those who frequented grime clubs back in the day have not been too elated.
"Older guys would ask us what we think we're doing. They'd go on about how they'd done this way back. But we haven't heard or known of them. We were like 12 then!" Hakoniemi says.
Töölön Ketterä is not the first group to make grime in Finnish. Helsinki-based rapper J Riskit published his EP Liikaa (Eng. too much) in 2007. It's nearly impossible to say who claimed grime as their own first, as mp3s of the Finnish songs were shared in various chats and homemade bootleg CDs.
Now grime has resurged as a global phenomenon, and Hakoniemi and Kamari have nailed their timing.
Pop culture trends come and go in cycles and in the last couple of years grime has resurfaced in the UK. London-based grime superstar Skepta rose to the top of British charts this spring with his album Konnichiwa.
The trend has not gone unnoticed. Global superstars like Drake and Kanye West have noted the genre in their own work, despite grime never having a breakthrough in the United States. Drake has performed with Skepta and praised the artist's new album to his 27,1 million Instagram followers. West has been enthusiastic to be seen with British grime artists at the 2015 Brit Award gala.
The genre has made a notable comeback in Finland too, and Töölön Ketterä are not the only band to ride the wagon. Tampere and Espoo-based Horse Attack Sqwad and Helsinki-based Kristo Laanti, who raps under the artist name Khid, have both taken influences from grime.
"Khid is brilliant, but he has never claimed to be plain grime. He has good sounds and beats. I respect that," Hakoniemi says.
Drawing a line between grime and other electronic music is difficult, because genres have a tendency to get mixed together. Ideas and influences are spread in an instant all over the world through the internet.
Hakoniemi thinks grime is far more grounded than hip hop. He has basically stopped listening to American rap altogether.
"With grime, there are no expectations about what you should be like outside of the music scene. Nobody cares how wealthy your neighbourhood is. You don't have to have two sports cars and gold chains, but can be credible in sweatpants and a hoodie. You're either a good MC or you're not."
The sartorial differences with hip hop are not unique to Finland. British grime artists don't particularly pose in designer leather jackets or expensive handbags worth thousands. Hakoniemi's stage outfit of choice is tracksuits.
"It's all about energy and having fun."
Despite existing as a musical duo for only half a year, Hakoniemi and Kamari have known each other since puberty. Hakoniemi used to sing in punk bands and rap. Kamari has produced house music and other electronic dance music. Only after sharing a home did they sync their musical ambitions.
"Whenever we had guests over, Fedja would start playing something and I'd freestyle on top of it. That's basically how we started," Hakoniemi says.
This spring they started looking for someone to publish their material. Initially big record companies seemed cautiously interested.
"Ultimately they weren't interested in our music, but thought of us as a project to be developed," Kamari describes.
The pair had their big break when Hakoniemi's friend offered to help. He handed their songs to his acquaintance, rapper Ville Galle of the Finnish rap band JVG.
Galle liked what he heard, and told Hakoniemi to be in touch.
"When we met Ville, we were like, oh shit, we're with the big dogs now! The big labels didn't feel like anything after that," Hakoniemi says.
After discussing a recording contract with Ville Galle, Hakoniemi and Kamari went to have dinner at Burger King.
"We just sat there like, oh shit."
As Töölön Ketterä, Hakoniemi and Kamari have only published one EP and one single. They're unsure about ever publishing an album. Their label doesn't really care either: EPs and singles are enough, as the album format is in fast decline.
Currently the goal is to cement their position as professional musicians – and build a brand around Töölön Ketterä.
At times Hakoniemi and Kamari sound more like entrepreneurs than musicians. Kamari talks about their "product", when he refers to Töölön Ketterä and the songs they tried to entice record labels with.
Töölön Ketterä has succeeded in reaching audiences that have nothing to do with each other. In addition to club nights, Hakoniemi and Kamari have performed in, for example, a sports camp for schoolchildren. They have consciously decided to leave their lyrics free of swear words or references to binge drinking.
"Those things are just so uninteresting and mundane," Hakoniemi says.
Hakoniemi and Kamari want to expand their brand with Töölön Ketterä fan products.
"We tried creating our own fashion brand, so our cat logo existed way before the band did," Kamari says.
This past summer Hakoniemi and Kamari printed a limited release of hoodies with their logo. Instead of selling them through a faceless online store, customers could pick up their hoodies from the flat Töölön Ketterä shares.
"If people wanted to take a selfie with us then, then that's what we did," Hakoniemi says.
Kamari continues:
"This all creates commitment and engagement with our fans. We just need to handle this well and with style."
"We don't want people to think we're just messing about with grime in our bedrooms. Our goal is to take this as far as possible," Hakoniemi concludes.
Translated by Melissa Heikkilä.