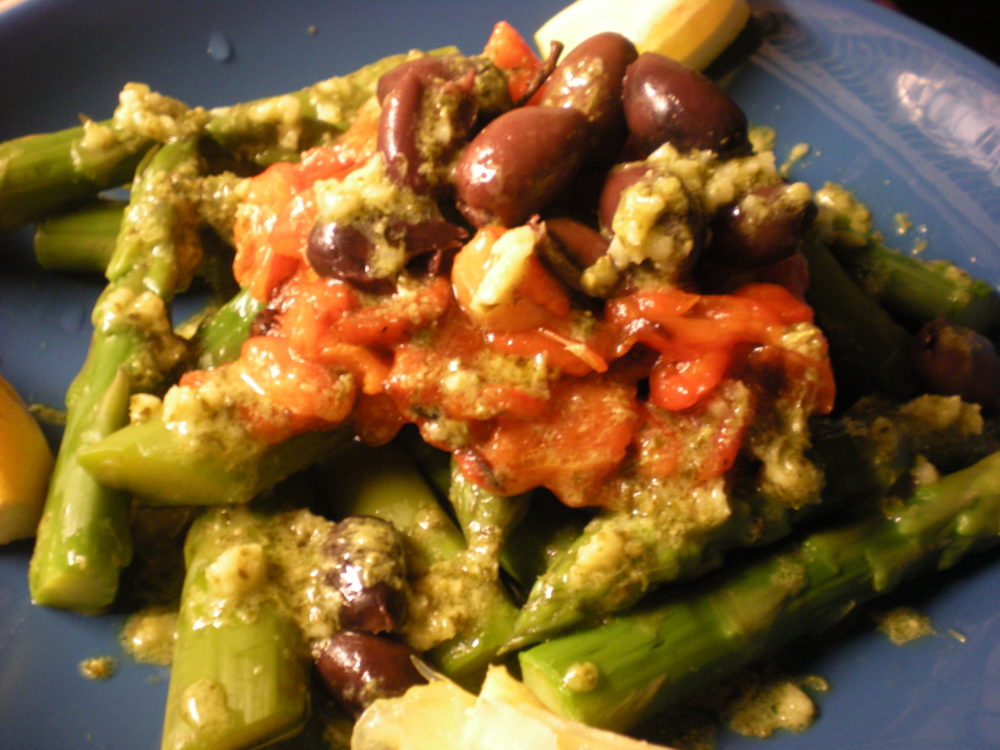 One thing I look forward to this time of year is fresh vegetables. Asparagus came into season a few weeks ago and I've finally found a recipe for it that is different from my typical asparagus and mushroom risotto. Time for something new then, and no time to wait, the price of asparagus is going back up soon enough!
The combination of fresh asparagus with tangy lemon juice, garlic, fresh basil and smoky roasted red peppers and the best olive oil, and salty black olives are what makes this warm salad what my fiance calls 'restaurant worthy'. Try it yourself the next time you want to impress some guests.
Start with 2 red peppers (capsicum, or paprika), and cut them into flat strips. Turn the oven to around 200C and roast the red peppers close to the broiler (the top of the inside of the oven) until they start to blister and become black. While the peppers are roasting, start some water boiling with a pinch of salt. Clean a bunch of asparagus, cutting off the woody ends and then cutting them in half. Add the bottom halves to the boiling water and boil for 3 minutes. Add the tops of the asparagus and boil for another 3 minutes. Drain and rinse with cold water immediately to stop from over cooking.
The red peppers should be roasted enough by now. Remove the red peppers from the oven and lay a damp cloth on top and allow them to cool. Once cool, gently pull the skin off of the strips and discard the skin. Next, make the dressing by mixing 1 dl olive oil, the juice of one lemon, a handful of chopped fresh basil (or a couple of tablespoons of dried basil), and a crushed clove of garlic, and salt and pepper to taste. Put the salad together by placing the asparagus on a plate, top with the red peppers, black olives (pit removed), and the dressing.
Serves: 4
Preparation time: 10 minutes
Cook time: 15 minutes