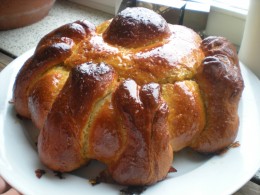 There are several holidays occurring around this time in many parts of the world and cultures, whether you celebrate All Saints Day, Halloween, el Dia de los Muertos, dia de Finados, or some variation thereof. I enjoy these unique and, in my opinion, under celebrated holidays, because they represent an essential part of life that is almost a taboo topic in many different cultures: death.
The veneration of the dead taken up in various forms of holidays and the manner of celebration reflect societal and religious influence. It is common throughout the Americas, Asia and in parts of Europe and has its roots deep in native culture. Each have different traditions, but with the same underlying theme. Mummies in ancient Egypt come to mind. Hence, mummies are still a popular Halloween costume among people of all ages. In other traditions, sacrifices are made at alters, cemeteries are visited, treats are collected, or feasts are made in honor of deceased love ones.
In Mexico, the holiday that is celebrated chiefly on Nomember 2nd, is called 'del dia de los muertos'  and has achieved national holiday status. Families build small altars for their family members and make a feast of their favorite foods and other foods shaped often as skulls or skeletons. Therefore, it's no surprise that the bread they call 'pan de muertos' is also embellished often with bread in the shape of bones.
I'm particularly fond of this bread, not only because it's sweet and moist and reminds me of that joyful tradition in Mexico, but because I first made it over 10 years ago for the first time with someone who was then bound to become one of the best friends and inspirations I could ever have.
But enough about me, onto the recipe:
Ingredients:
1/4 cup (.65 dl) margarine
1/4 cup milk (.65 dl)
1/4 cup warm water (110 degrees F/45 degrees C)
3 cups all-purpose flour (7.5dl)
1 1/4 teaspoons active dry yeast
1/2 teaspoon salt
2 teaspoons anise seed
1/4 cup white sugar
2 eggs, beaten
2 teaspoons orange zest
1/4 cup white sugar
1/4 cup orange juice
1 tablespoon orange zest
2 tablespoons white sugar
Firstly, heat the milk and butter in a saucepan until the butter has melted. Add sugar and stir until dissolved. Remove the saucepan from heat and allow to cool slightly. Add the yeast and leave the mixture for 5 minutes, or until the yeast is proofed (or is foaming and expanding – that way you know the yeast will work to raise the bread).
Add the water, anise seed, orange zest and salt. Whisk in the eggs and then slowly mix in the flour, one deciliter at a time, gradually until it is thoroughly mixed and supply, but not sticky and not too firm. At this point you can knead the dough (pronounced: doh) for a few minutes and then leave in the bowl (optionally use a little bit of butter or olive oil to grease the dough before you leave it to rise). Leave it to rise until doubled in size, over 1-2 hours.
Then you can break the dough into several pieces. One large piece and then several small pieces which you can make into shapes. Layer the shapes on top of the main ball of dough, in anyway your creativity strikes you. I tried to make bones from mine.
Bake the bread at 175C for 35 to 45 minutes. While the bread is in the oven, you can make the glaze. With the sugar, orange juice and zest in a pan, bring to boil, and then brush over the bread thoroghly.
Don't forget to share with friends!